What is a Thin Client?
To simplify it, a thin client is a computer that consists of minimal of components. It lacks traditional hardware and it is built in a way that it can connect to your central systems where your program runs such as MS Office, email and CRM. This means that a thin client is not in need of as much capacity, performance and power that it would have to be if all your programs where locally run in a regular computer.
At AceIQ we offer a wide variety within the spectra of thin Clients. We have collaborations with Dell, IGEL and ViewSonic, so that we can offer you the best thin client that's suited for your organization.
IGEL
We collaborate with Arrow to offer you thin clients from IGEL. They are one of the leading partner in the industry of producing thin clients. IGEL also offers management products; these lasts years they
have been the leading company with their Linux-bases thin clients, therefore they have a strong position as a manufacturer of thin clients. Their product range is available in both Linux as well as Windows-based thin clients that are priced in various categories to suit your needs the best. They have an entry-level segment called Zero Clients, these include only the basic functions of the current protocol and plug.
If the demand is a greater number of features and plug are segment Thin Clients UD2 – UD9 that has more capacity to handle graphics handling, connection possibilities with gates and accessories; all IGEL products include free managing. It is possible to buy the licensing and management of a non IGEL product so it can handle all of their devices through the same system. In addition, IGEL has developed and refined a product that makes it possible to convert older hardware to a thin client, that facilitating the transition from PC to thin client.
NComputing
NComputing is also one of the leading manufacturers of thin clients and it includes a central management tool for managing all clients in your environment in a smooth way. NComputing has a wide range of thin clients and the clients we sell are Citrix Ready, which means that the clients are Citrix optimized with Skype4Bussiness and HDX integration, among others. NComputing clients are built on Raspberry PI which makes them very attractive in terms of price.

In addition, the Workspace Hub feature is available in our NComputing clients. Workspace Hub is a smart way for users to access their virtual environment, where all they need is their mobile phone. Workspace Hub supports QR code and proximity authentication, but traditional login options can also be used.
In short, this means that a user can easily and quickly connect to any client, which in turn means that there are not necessarily specific locations in the office landscape.
Stratodesk
Stratodesk delivers software in the form of it's own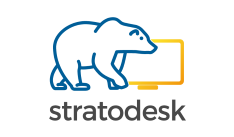 operating system "NoTouch OS" and a management tool "NoTouch Center" to centralize the management of all clients in an environment. Stratodesk has manufactured software for NComputing's thin clients, among others.
Together with Citrix, Stratodesk has also developed the aforementioned Workspace Hub feature, and Stratodesk's NoTouch OS and Center are also used with the NComputing clients.
Contact us for further information about thin clients and how you can use it within your organization.